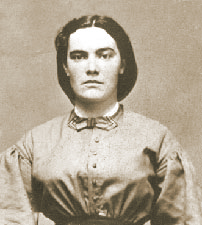 Mary Ann Mangan
of Louth County, Ireland
Courtesy of Jacklyn Flannery, great-grandaughter of Mary Ann Mangan
I, Mary Ann Mangan, was born in the month of March, twenty fifth, in the year of our Lord 1848 in the lovely village of Jonesborough, Louth County, Ireland. My parents were both trades people and were very industrious. My mother was the daughter of Edward McKindley, a farmer by occupation and a Scholar of an advanced degree for that day and time. My grandparents on my mother's mother's side, grandfather Rice, was a well doing blacksmith. He had a numerous family. He lived about one mile north of Newry [Northern Ireland]. He lived in a beautiful place. Some of his sons imigrated to America. Two of them settled in Milwaukee, Wis. [One of them,] Joseph, was a blacksmith. He acumulated [wealth and] got rich thru industry. He was a very religious man. He done better than all the rest of his brothers. He married in his old days and had a family.
The house where I was born was a stone house, one story high and contained three rooms. It greatly resembled the house Burns, the Poet, was born in. The house was covered with thatch. [It] had a stone fence around the yard, in which stood a large holly tree which staid green the year round, making a beautiful bouket [bouquet] with its green leaves and red berries. The villagers whitewashed thair houses and yards every Spring. [It was] a beautifull sight to see in contrast with the green hedgerows and outlying fields and meadows, and the quiet little streem that meandered thru the valley filled with speckled trout. How often have I played on its green banks, watching the fish play and gathering the beautiful wild flowers that grew in profusion on its banks. Oh Irish lassie, you little knew what was in store for you as the years passed over your devoted head.
My parents lived in the home of my grandfather McKindley until the birth of my sister Ellen. She was next to me. When she was six weeks old my parents left Ireland and moved to Bolton, England. There my parents kept a boardinghouse. My father, hearing such glowing reports of the gold region in America, he, with a number of his neighbors, took ship and sailed from Liverpool, England for the gold regions of America. Mother went to Liverpool to bid him good bye. She never seen him anymore. There she was, left with three children to provide for, with nothing to fall back on but her own industry. She was a woman of an iron will. She resolved to do the best she could. She worked late and erley to maintain her children. She was young and healthy. She worked with a will. She baurded young girls that worked in shops and factories and still worked at her own trade.
It was not long after my father left till my sister died. She was the youngest. She is buyried in Bolton churchyard. Then my mother concluded she could do better in America and, having relatives and acquaintances [there], she made up her mind to leave England and come to America.
The old home in Ireland was still occupied by the youngest girl [Margaret McKindley], and an old maiden aunt and an old great aunt, old Aunt Judy. She was such a good woman.
Mother sent me to an infant school when I was quite young. It was a religeous school keept by the Sisters of Charity. I distinctly remember the crucifix that hung on the wall behind the teacher's desk. We had no books. We were taught by chart, using a pointer. As I said before, I was very young when I went to that school. We had exersises every day. We would march, lead by the teacher. We had songs in motion. To encourage the scholars to learn, the one that attended the instructions the closest got candy, so we all tried to get some. This school was in Bolton, England.
My mother, when she made up her mind to leave England, she sent me to Ireland to stay at the old home with her folks. I was about six or seven years old at that time. She kept sister, Ellen with her until she got ready to sail to America.
When I arived in Ireland, I was taken in charge of by my Aunt Judy. (I never think of her, but [that] it sends a thrill of admiration thru my very soul.) She was so very, very religeous. She it was who taught me how to pray. If I went to sleep in the evening, being tired with play, she would wake me, give [me] my poringer [bowl] of mush and milk, then teach me my evening prayer - teaching me to kneel down and join my hands and raise them in a beseeching attitude, and bow my head and offer up my heartfelt thanks to Him who made me and who fed and clothead me everyday. Under such religeous training, I was brought up. And when the holy Saboth came, we all went to the little chappel on the hill to attend divine worship in the morning and, in the afternoon, the children of the neighborhood all went to Sunday School - the Protestant children to their Sunday School, and the Catholic children to the little chapel on the hill.
I learned catachism very fast. [I] passed an examination in catachism and was successful. Young as I was, I was given a class to teach in Sunday School. So, you see, I became a worker in Sunday School at a very early age. I attended day school also. I remember well when the teacher turned me out of my A.B.C.'s. I only went one week to school in Ireland when the teacher turned me [over to] words of one syllable. My Aunt Judy was in the field at work and I was so well-pleased with being advanced in my lesson, I never stopt at the house but went straight to her and said, "Aunt Judy, my teacher has put me in an [advanced class]!". Oh how great I felt.
My childhood was passed in going to school and, in the summer time, I hearded the cows like David of sacrid writ. I arose every morning before the lark and was out with the cows to take them to pasture. I have oftehn watched the lark, as he arose from his nest, soar upward, hear his sweet song as he assended and was lost in the upper deep. I could hear his song when I could'nt see him.
I was raised among a superstious people, a people who believed in ghosts, hobgoblins, and fairys. I never knew what fear was. I was allways looking for fairys, but never seen any. I would go anywhere, night or day, whenever I wanted. [I] never saw anything unusual so I dropt the belief in those imaginary beings alltogether.
My mother sent my sister, Ellen over to Ireland to stay with me and she sailed to America. When she got settled she did not forget her children in the old sod. She would send money at least every three months to buy what we needed and also to help Aunt Judy. Aunt Judy would take me with her when she went to the bank to get money on the check Mother sent her. The banker's name was Wiseman. He was a very good man. His wife keept a parrot. One day [when] I went to his house with my aunt, the bird was in the sitting room. He keept looking at me all the time and I keept staring at him. He ruffled up his feathers and said, "Oh, put her out, put her out!". A maid came and took me in another room. I must have insulted his highness by gazzing at him. The bank was in the city of Newry, four miles from my house. Newry is in county Down.
There was no man on the place so my Aunt Judy said Aunt Margreat must marry. Margreat was mother's youngest sister. Aunt Judy said she was getting old and could'nt work in the fields any longer. By a good deal of persuasion, Margreat consented and became the wife of Peter Kelley, a very worthy young man. My Aunt Maggie, as we called her, would'nt leave her home to live in his home so he quit his home and came to live at his wife's home. So I had a new uncle. He was very kind to me and my sister. He was a good-natured fellow. He was always singing or whistling at his work. So they began to farm at a more extensive plan than they did when there was no man on the place.
In my childhood, in Ireland, they used the reaphook to cut the grain or corn, as it is called. All cereals are called corn in the old country. When they would reap the grain and tie it in bundles, like Ruth of Bible fame, I have often gleaned in the field after the reapers. It was a pleasent sight to see the reapers at work. They had a custom of healping each other. The reapers would cut one neighbor's grain today and tomorrow another and so continue until they cut all in the neighborhood. How merry they all would be - some singing, some whistling, while others would be cracking jokes. And their merry laughter could be heard quite a ways of. When meal time came, [we would] partake of a hearty meal of mashed potatoes, called champ, Indian meal bread or oatmeal bread, plenty of good buttermilk and dairy butter, the roals of fresh butter looking like the gold bricks I have seen in the bank windows in Milwaukee, Wis. when I was a greenhorn living there.
In attending school, I always took my dinner with me which usually consisted of Indian meal bread or oatmeal bread. Sometimes Aunt Judy would make me a kake of flour and potatoes and shortning. I was very fond of the potatoes cake. Sometimes I would have a broiled herring which was very nice. I studdied reading and spelling, [and] studied geography from a chart. The boys and girls were sepparated. The boys were taught by a man teacher and the girls by a woman teacher. One day I came home from school and Aunt Judy told me she got a letter from my mother. The letter contained a passport for me and my sister and Aunt Sallie [Sarah], mother's oldest sister that was unmarried. She was to come with us. I did not know whether to be glad or not. I loved my old Aunt so good and I liked all the folks at all the home I knew anything about. I loved my Uncle Kelley. He was good to me and sister, Ellen.
One little incident I will mention conserning Aunt Sallie's beau. As I said before, Aunt Judy allways petted me and indulged me. I had a pet chicken and to please me she let me keep it in the house. So Aunt fixed a roost for Pet on side of the chimney high up. And to please me she would put it to roost every evening. One evening, Aunt Sallie's beau came to see her. Sallie built a fire in the kitchen. She sent me to bed and her and John was having a nice time, laughing and talking as lovers will, when, yee gads, the chicken struck John on the top of the head. He happened to be sitting right under Pet's roost. John said, good gracious, Sallie, I'm ruined. I saw my aunt get a pan of water and a cloth and try to undo the mischief Pet had done. The door being open, I could see all that was going on. I was so well pleased with what Pet done I turned three summersaults in the bed. I dared not laugh. Aunt Judy was not at home that evening. She was visiting a sick neighbor. When she come home, I told her what happened and she laughed heartily. Sallie said she would kill Pet. Aunt Judy would not let her. When Aunt Judy said anything, I knew it was so.
So we began to prepare for our ocean voiage. Mother sent money to buy anything that was neaded in the line of clothing, bed clothes, and eatables. We brout tin ware, such as cups and buckets, and an iron baker. We also took soap to wash with. We went in wagans to Dundalk, [Ireland], six miles from where we lived. The neighbors came to bid us good by and Godspeed. Those that could'nt come with us to the seaport, came and bid us a farewell. I did hate to leave my friends and playmates so very much, and especially old Aunt Judy. When we arrived at Dundalk, my friends treated me to fruits and candies. Oh the last hand shake, the last fond embrace. Oh how thrilling. Oh the tears that were shed. I never can forget 'till my dying day. My aunt's sobs and cryes still ring in my memory and will go down to the grave with me.
My Aunt [Margaret] Kelley was such a good, pure woman. She taught me lessons of virtue and purity that I have never forgot, nor never will. They have been an insperation to me. No matter where I was, nor what company I was in, I allways remembered her pure teachings. Thank heaven I had such teachers in my childhood. They made lasting impresions on my mind when it was young and pliable.
We sailed from Dundalk, across to Liverpool and we arrived in the morning. I don't remember what mounth, but I think it was the year fifty eight. We staid four days in Liverpool, [England] wating for the vessail to get ready to sail. We staid with a cousin of mother's by the name of William McKindley. He was a busyness man of Liverpool. My Aunt Judy came with us to Liverpool and came to the ship with us. I never can forget my dear old Aunt's tears as she stood over me crying, her tears falling on my head, sorrowing because we would meet no more in this world. I realized that more and more as I got older. I knew she truly loved me and I never have loved anyone like I did her. My childhood's friend. Her memory is blessed with me.
The day arrived for the ship to sail. The sailors were busy and those that come to the ship to see their friends set sail were bidding goodbys and Godspeed. It was a tearful parting. Some were bidding their friends farewell, perhaps never to meet again, while others were going to meet friends long sepprated. And the uncertainty of an ocean voiage. The name of the ship was Lineeure(?). She had the bust of a woman, with her right hand raised as if to shade her brow. Our vessail was a three mast ship. The Captain had his wife on board so he paid strict attention to his busyness. The roll was called every morning. My Aunt Sallie being sick, I had to answer in her stead. My Aunt was seasick all the voiage. When I answered the rollcall, I got my suply of water, fresh water for the day. I had to do all the cooking. We had some very stormy weather. The vessail was knocked out of her course and on one or two ocasions we were in dainger of going to the bottom. The good Lord preserved us and meny a heartfelt prayer was offered up from the hold a the ship. I often wish, since I have got old, that I could pray as earnest and sincere as I did when a child in that fearful storm, when the waves were rageing mountains high and it seemed as if the vessail would go to peices. After we had been sailing several weeks, we encountered a calm. The sea was as smoth as the face of a looking glass, the ship was still, not a ripple on the surface of the water, save what was made by the fishes. We had good disapline on board. We had devine Service every Saboth. After devine service one Sunday, the passengers had gone below to get thair dinner. We were then in a calm. The whistle blew, all hands on deck, so we all rushed on deck to see what was the matter. When we came on deck, we saw a sight some of us never saw before, and some of us never saw since. We saw a Whale. He was a monster. He looked like he was larger than the vessel. He was fighting terribly for his life. Two other fishes had him. One had him by the under jaw, holding him fast, while the other gave him such blows, enough to kill him. Twice he came very close to the vessal. He would dive and come up in another place, but he staid close enough so we had a close sight of the fight. He would dive then come to the surface and blow, sending jets of water up several feet in the air. Finally he gave up the fight, turned his great white belly, and lay on the surface of the water. The other fish had a feast.
When we had been sailing several weeks we could see the water was begining to look murkey. The sailors said we were not far from land. I noticed that the sea was full of small vessels carrying one mast. The sailors said they were pilot boats. A pilot came on board creating quite a stir among the passengers. After he came on board it was not long until we saw land. What a joyful time we had when we first saw land. Everybody was pleased with everybody else. People talked to one another that had'nt spoken to one another during the voiage. In a short time we landed in Newyork Bay. There we had to stay and be examined by the doctors. Well, we all passed — all pronounced healthy and clean. A small steamboat came to the ship and took the passengers to the dock and we were quartered in Castlegardens. So our voiage was over and we gave three cheers for the good ship and the brave captain.
While in Newyork waiting for further transportition, we went out in the city and saw Washington monument. There was a bank in Castlegardens where we exchanged our Brittish money for U. S. money. I saw the first Negro I ever saw in Newyork. We remained in N. Y. several days. Then we came by cars and boat to Millwaukee. We arrived in Millwaukee earley in the fall. There I saw my first watermelons, cucumbers, and squashes. There I saw the first ear of corn. I did'nt know whether it was hand made or natural. I did not know whether it was mineral or vegatable , [but] I was delighted with it. In fact, I was delighted with all I saw. My mother was glad to see her two little girls [that] she had not seen for some years. The greattest surprise of all to me was I had a stepfather. He was a good man and was very kind to us.. We had not been long in Millwaukee till we were sent to school. First we were sent to St. Paul's Sunday school and we went to church every Sunday. We studdied Catachism and we resited our lessons to our teacher every Sunday. I made good grades in my Sunday school lessons. My sister Ellen and I were in the same class. Ellen had a remarkable mental capasity. She was quick to learn and she had a retentive mind. The Mangans had good mental ability. So also the McKindleys. Grandfather McKindley was a remarkable man for his day and time.
The first school we attended was the fifth ward. Our teacher's name was Miss Alward. Ellen's teacher was a miss Hackett. We used Sanders readers and speller. We had arethmetic on the black board. [The] teacher would put down columns of figures and we added them up. Miss Alward was very severe in her school disapline . She was cruel.
My mother and stepfather moved to Ill. Mother left me with her sister for company. She told mother she did'nt want to be left alone so I staid with her. She sent me to the third ward school. Aunt Kate was a very religious woman. She did not like for me to go to the public school so she sent me to a religious school. I went to the Sisters School. My teacher's name was Sister Mary Josephine. I loved her very much. She was so sweet and good to me. The school was opened and closed with prayer. The books that were used in this school were entirly different to the books I had been using in the common schools. I had a different reader, speller, and arithmetic.. I had the Columbian arithmetic. The school opened and closed with prayers and the schollars by turns, had to do the sweeping.
In the Spring of the year 18 sixty, my Aunt moved to Henry, Ill where my mother, her husband, and Aunt Sallie lived. There mother bout a home. Aunt Kate and Sallie had a home in Henry also. I staid at home with mother. Then she sent me and sister Ellen to a german school taught in the Catholic church by a german, whose name I have forgotten. My sister Ellen learned german rapidly. She also took music and was quite proficient in that also. I did'nt like the teacher and quit going. Ellen stuck to her [business] and done well in school.
I attended the public school in the year 1860. Miss Mary Le Boice was my teacher. My Aunt Kate, who was living in Peru, Ill that year, came to visit us and she insisted on Mother letting me go stay with her. She said she was lonesome and wanted my company. So Mother agreed for me to go with her. There I went to an Academy School taught by Prof Harrington. There were no primary scholars attending.
While living in Peru, I attended church and Sundayschool regularly. While attending school, I became acquainted with a number of nice young men and girls who were my classmates. In the Spring of sixty one, while on my way to school, I was told the South had seceded and war was inevetable. War was the topic of the day. The war cloud was darkning the northern horizon and the vallant sons of the North were preparing to rush to the awful encounter. I quit school, went home, and went to clerk in a store in my home town. The proprietor of the store was a Southern lady and she it was who persuaded me to marry your father, my husband. I staid with this Southern storekeepr in the Summer. When school opened I would quit the store and go to school. I left the Southern lady and went to work for an old jentleman and his wife. The lady was an invalid. She was very kind to me and I liked to live with her very much. I was living in Chicago and, with a friend, went to visit the great Senator Douglass's grave on the bank of Lake Michigan. There was a picnic on the grounds. There were swings. I got into [one] and my friend was going to swing me when a young man steped up and [said], I'll swing you if you wish me to. I let him move the swing a short time. Then I said, Please stop the swing. He done as I requested. I thanked him and went walking off. It was time to go home. When I was getting on the street car, my acquaintence of the swing was at the car door and asked me if I enjoyed myself. Yes, I answered in a happy, joyous way. My friend who was with me was an old lady and she requested the name of the young man who swang me and had been so nice to her. He gave her his name and adress. He promised to get a pass for the lady to go inside of Camp Douglass. The law of the camp was, No citizen allowed inside, unless some friend was a soldier and on duty there. The young man's name was Michael Gabbard, Co. G 8th Regt, V.R.C., Camp Douglass, Chicago, Ill. He got my address and I had'nt been at home but two days when I got a letter from said Michael. And what began in an indifferent acquaintance ended in marriage. I had not been long acquainted with Mike Gabbard when he asked me to marry him. I was not thinking of such a thing. I was young and told him I did'nt want to marry. He was persistent. I went home. Mike wrote to Mother while I was at home, asking her consent. She was furious. She made life so hard for me. I went to my Southern friend with my trouble and of course she was for her Southern friend. She persuaded me to leave home and marry him, which I did. If Mother had'nt been so harch to me, I would'nt have left home and married a strange man. Mother never forgave my Southern friend for what she done in the matter. After I was married and with Mike in Chicago, mother wrote to me to come home and stay with her until Mike got his discharge as Mike could not get a house to move in[to] as the houses in camp were all occupied. Mike consented for me to go . I was but a short time at home when he got a pass for twelve hours, which he lengthened eight days. When he went back to camp, he was put in the guardhouse four days. It was Christmas time and he had lots of company in the guardhouse. Mother and my good stepfather treated him royally. Aunt Sally and Aunt Kate gave us a dinner as also did Mike's Southern friend. Mike went back to duty at Chicago. I staid with Mother. I had been sick. When I got well, having nothing to do, I went to the College School in Henry., Prof. Stone teacher. Mike [was] all this time, wating for a house to become vacent. At last, the happy time arrived. He notified me to come. He had a house. Well, we got to housekeeping.
Mother hated to see me go very much and I hated to leave her and my good old stepfather. He and mother came to the train to see me off and bid me good by. that was the last time I ever saw my stepfather. I parted with him forever: he was a good man. Mike liked him. I went to housekeeping in Camp Douglass, Chicago. I liked to keep house very much. There was three young men Soldiers, of Mike's company, boarded with us. We enjoyed thair company very much. One was a Newyorker, one was an Indianin, and one was a Canadian. They were cultured gentleman and we enjoyed their company very much (let me say here, your Father was well liked by all his comrades). In the latter part of sixty five, the war was over. The prisoners were all discharged, and gone home. And the soldiers wanted to be discharged also. They had enough of war, such a cruel war. They wanted to follow thair peacful avocations of life. Mike got his discharge from service at Chicago Ill. Your Father received two honorable discharges. We left Chicago in the latter part of Nov, 1865, arrived in Lexington Ky. and stoped at the Broadway Hotel. Took [the] stage next day for Richmond Ky., stayed over night at the Webster Hotel. Next day took [the] stage to Irvine Ky. We arrived in Irvine on Sunday evening. the landlady was not at home when we arrived at the Iimason House, our hostess being a colored Lady. She took charge of my things, waiting on me very politely. In the mean time plying me with questions. She asked me where I was from. and when I told her I was from the North, she asked me if she was free. I told her yes! your as free as I am. She gave me an ernest look, threw her arms up over her head, and shouted 'Thank the Lord'. I'll just stay with them till Christmas. Her mistress had told her she was not free in order to get her work. She was a good cook and her place could'nt be easily filled. The landlady got very angry at me for telling her black woman she was free. I had no apology to make to the landlady. Mike and I walked to Proctor, stayed all night at an old acquaintance of Mike's, Frank Daugherty, by name. Him and his wife were very kind to us. Next day we started to walk to Boonville Ky. When we were some miles from Boonville, Mike's folks heard we were comming and sent some of his friends to meet us with horses. Old uncle Joe Thomas was in the croud. He was a kind old man. When I got acquainnted with him, I liked him and his old lady very much. They used to visit me very often when I got to housekeeping. Uncle Joe was certainly a diamond in the rough. We arrived at Mike's old home on Indian Creek and we lived with the old people nearly two years. Edward, my first child was born while we lived with Mike's Father and mother. We were not satisfied to live in the house with his people any longer. So Mike built a house and we got to housekeeping. we were both very well satisfied to be in our own home.
My nearest neighbors were James Baker and his family. His wife [Sarah Davidson] was a good woman. She was a mother to me meny times. She helped me when I was sick and had no one to care for me. She has passed to her reward and her memory is a heart treasure to me.
I taught my first school on Indian Creek at grassy branch in an old log house; rough split logs for seats, auger holes bored in the ends, and round sticks for legs. There were no teachers desk, no writing desk, and an old fashioned fire place filled one side of the room; a loose puncheon floor. The ruff was fastened down with logs and stones. Some of the children had books and some had none. One child came to school with an Old Testament. The first and last part had been torn off. One child had an almanac [that] was printed before I was born. With such materials, I was expected to do wonders. The scholars were acustomed to studying out loud. I had them quit that and study silently. I taught the first silent school in the district. I taught school at grassy branch five years, not successively. Steven Hogg was commissioner of Owsley Co. schools. The next Superintendent was Joseph Hampton. I taught under him two years. He was a good man. I taught school on upper Buffalo two terms of five months each. Teachers them days had a hard time. They certainly had to labor under difficulty. Webster's blue back speller was greatly in evidence. I taught the first five-months school taught on grassy branch. Henry Hogg was superintendent. He was a good man. He was a gallant soldier and faught for the Union. Mike and him were fast friends. The last school I taught was in my home district. At the grassy branch school it was the first five-months school ever taught there. Old Major Hampton was county Superintendant. That was before Steve was born [1880]. That was my last public school. I taught afterward two weeks for Wood Moyers. [I] taught also for John Rose. I made quite a lot of money teaching which helped to defray expensens in raising my Family.
When I became a resident of Ousley Co Ky. in the year sixty seven, 1867, a gentleman from Virginia, John Allen by name, came and settled in the neighborhood where I lived. Being very well educated, he got up a subscription school. He had scholars from all the country round. Your Uncle Abel and Abijah attended his school. Mr Allen organized a Sunday school and I was a teacher. We done a good work and had a large school and regular attendance. I liked the work and keept it up for quite a while. Mr Allen moved off and I could'nt attend regular, but I taught sunday school when ever I could. All honor to the old teacher[s] of the past: while thair method was not socratic, they suited the times in which they lived. And meny a notable man and woman were the product of the old log school house. The teachers of that day were a primative set. They done a good work, considering their chance. They helped to make the country what it is to day, proving the verity of the scriptures. Thair works do follow them. You asked me if there were any notable ones at the school where I attended. The last school I went to was in my home town, Henry Ills. I went to school with John M. Hammelton, afterwards Governor of Ills. There were severel of my school mates done well, made good records for themselves. You asked me what games were played in my childhood in the old country. Much the same as the children in this country play: the children would meet in the evening at some nieghbors house, and sing and tell stories. Fairiestales were very much in evidence. Mother Goose rimes were repeated by the little ones. Blind man's buff and hunt the slipper were leading plays, old and young, taking part. These plays created a great deal of mirth and jollity, especially the play, hunt the slipper. The one hunting the slipper got meny a whack on his person whin his back was turned. Some of the players would hit him on the back with the slipper, then pass it on to some one else, creating a good deal of fun.
---
Edward Douglass Gabbard
Was born February 27th, year 1866 on Indian Creek Owsley Co Ky. He has seven children living and three children dead. Children that's dead: Lola, Rebecah Jane, Boy baby.
Ben, Tink, Stella, Bradley, Nettie, James M., Annie Downey (above are the names of Ed's living Children).
Margreat Gabbard
Was born June 25th, 1867. She was the mother of three children namely Millard, Elihu, Michael.
Margreat Gabbard
Married Jeramiah Reynolds. Thair Children are Millard, Elihu, Michael.
Ellen Mangan Gabbard
Nellie married Osmond Reynolds. Thair children are Mary Maud, Laura, Taylor Price
Emma Cáwood Gabbard
Married William Neeley. Thair childrens names Sam Bryan, Mary Ann, James, Mattie, Isaac H., Luther L. Dead: Fannie Ellen, Maggie Belle, Flora, Lizzie
Martha Gabbard
Married William Gabbard. Thair children are Mary Mai, Dewey, Stephen, Bertie Elizabeth, Hayes. Dead: Henryetta.
Lucy Eversole Gabbard
Married Greenberry Reynolds. Thair children: Grace Beatrice, Clarence Lee.
Isaac Hugh Gabbard
Married Elizabeth Eversole. Thair Children: Grace, Jean, Ida, Edward Douglass, Nancy, Ruth Terry, Louisa Murdock.
Taylor Price Gabbard
Married Amanda Moore. Thair children: Ethel Lillian, Frederick.
Stephen Arnold Gabbard
Married Flora Teal. Thair Children: Edna May, Ralph Waldo, Mary Margaret.
Willie Bob Gabbard
Was born Oct. 31st 1882. Died -
Willie Bob was the first to leave us and I sorrowed for him so much so that I nearly lost my reason. Our heavenly Father gave me consolation. I trust in his holy word. He doith all things well. Praise his holy Name.
The Lord has delivered me from my enemies. As I look back over the years that has gone by , all the trials and temptations I passed thru, without a slip or a fall, I know that it was my God that gave me the strength to withstand all the firey darts of the devel. Praise God from whom all blessings flow. May the Lord in whoom I trust be with me to the end. Amen.
[Notation here from Taylor Price Gabbard: Janet's birthday July 25, 1883, Willie's Oct. 31, 1882. Mother may have by mistake used the date of Willie's death for the date of his birth. T.P.G. 1883-7-25, 1882-10-31 (9-24)]
Annie Jane Gabbard
Was born July 25th 1883. Her Children are namely Howard Gabbard, Frances Belle, Ruth. Annie Jane Gabbard married Dillard Wilson. Above are the names of her children.
Lizzie Mai Gabbard
Was born April 5th 1885. I loved her so much. She was so promising. The Good Lord loved her more than I did. He took her from this sinful world to a world of light and love where my darling awaits my comming. -written by her mother.
John Scrivner Gabbard
Was born Nov 24th 1887. His children: Hugh Mangan Gabbard [Notation here from Taylor Price Gabbard: Mother failed to record the date of the birth of her son (known as Stanley) who was born dead. So I listed him as being born in 1889. T.P.G.]
Mary Belle Gabbard
Was born Jan 20th 1891. Her Children are Lizzie Lee, Mary Ann. One son dead, name Carlyle.
---
Married at Chicago in September 15th - 1864.
Michael Gabbard of Booneville Ky to Mary A Mangan of Henry Ill.
The marriage was performed by a Justice of the Peace. His name was Charles Chilson. I keept his business card a long time after I came to old Ky. It was not a happy marriage with me but I remained true to my obligations as a wife and as a mother. I done the best I could for my children, whom I dearly loved. They are all married and in homes of thair own and I am in the evening of life. I wish to live in quiet until I reach the Home not made with hands, eternal in the heavens.